Hole 1 "La Madunina"
The tee tends to direct the drive toward the right, where a bunker is lurking. Short hole. A canal crosses the hole at about fifty meters from the green, well protected by the sand traps on both sides.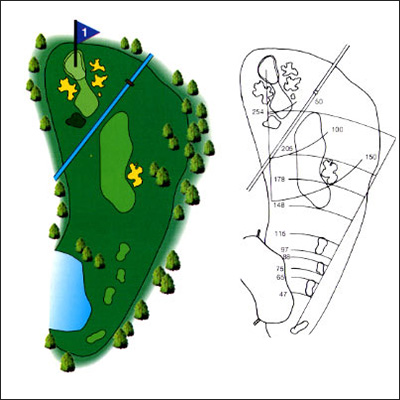 Hole 2 "Bunker to Bunker"
A dogleg to the left. A precise drive is important because on the right and left side of fairway there are bunkers. The second shot is not very long, but the green is elevated and well defended by sand traps, so, it is not easy to judge the position of the flag.
Hole 3 "Palmer Hill"
This par 5 allows golfers to attack the hole by drawing your shot slightly to the left of the bunkers. The players with the longest drives can reach the green with a good second shot, if they are able to avoid the rough on their left and the lake running along the right side of the fairway. If the flag is located to the right of the green, another sand trap will swallow shots falling too short.
Hole 4 "Parabolica"
Interesting hole that requires a precise drive to avoid falling into the bunker on the left or the lake on the right, which follows the hole almost to the green where the slope become more insidious if the flag is placed at the back side of the green.
Hole 5 "Nessie"
Delicate par 3. The green is defended laterally by a lake that can be very dangerous if the flag is located on the right side. On the left side, two large sand traps punish players who are too afraid of losing their ball in the water.
Hole 6 "Idroscalo"
In order to clear the water hazard crossing the fairway, it is important to not slice the drive toward the lake on the right. The slightly elevated green is wide and protected on the left by a sand trap.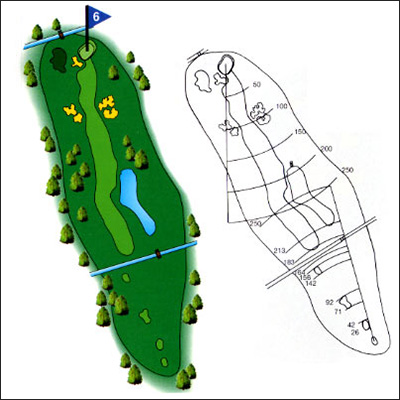 Hole 7 "H3O"
Beautiful and challenging medium-long par 3. The green is lower than the starting tee and is almost enclosed by a double ditch. Sand traps on both sides. Must hit the ball straight.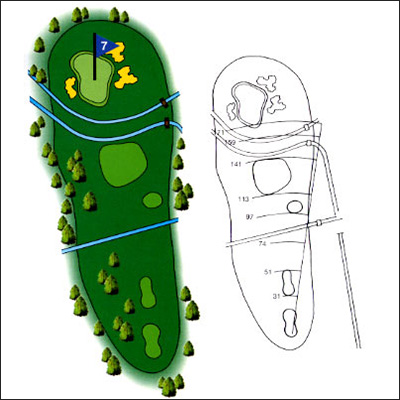 Hole 8 "Interlagos"
A difficult par 4, dogleg to the right. Never hook the drive (nor slice it in order to avoid ending up behind the large willow on the right) and never stay short to the green, extremely protected by a series of frontal bunkers. The second shot, with the threat of the lake to the right, can also be very delicate.
Hole 9 "Skorpion"
A spectacular par 4 with a parabolic curve to face with great attention. After a central drive, hooking the shot at the green is not allowed. The lake running along its left is like a magnet. Additional sand traps on the right prevent playing "safe".