Hole 1 "La Castellana"
The fairway revolves around a hill littered with bunker. The players with a long drive can take their second shot (blind) from over the bunkers. The other players will have to choose between a blind frontal attack (with a third shot) or bypassing the hill to get a closer vantage point with a view of the green.
Hole 2 "Aquafan"
Beautiful par 4. At the end of the drive there are bunkers on each side of the fairway. A shot on the fly is needed to take the green which is super protected by bunkers on the left and by the lake frontally and on the right.
Hole 3 "Rin-tin-tee"
Long dog-leg on the left with a delicate tee shot due to the lake on the right and bunkers in the corner of the fairway. Second shot uphill to reach a very wide green. Difficult to assess the position of the flag from afar.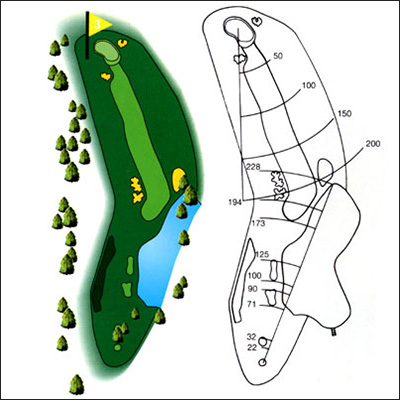 Hole 4 "Tipperary"
Another long hole with the out-of-bounds area to the left and a lake on the right.The fairway hangs toward the water and the rough does not always stop the balls. A drainage ditch crosses the hole before the big bunker in front of the green, the vastness of which sometimes requires long putts.
Hole 5 "Monte Stella"
The course's longest par 3. The green is elevated and therefore reachable only on the fly. Beware of the woods on the right: you would risk losing the ball.
Hole 6 "Marathon de Sable"
Very long par 4, probably the most insidious on the course for weaker golfers. It's important to start well with a good central drive and then play a second long shot to overcame the large central bunkers that protect the green.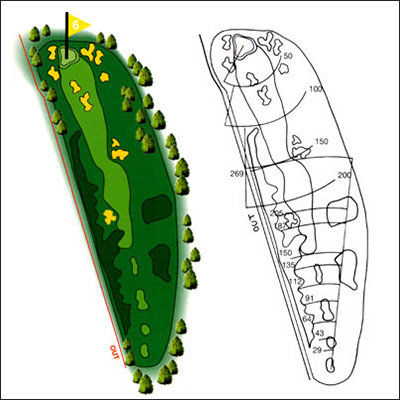 Hole 7 "Relax"
Restful hole, very scenic when played from the back-tee placed in front of the lake. The biggest danger is represented by the very high rough that in the middle of the season is present on the right of the green.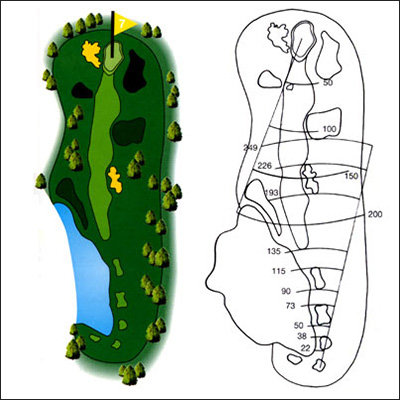 Hole 8 "Hovercraft"
Beautiful par 3. Do not be intimidated by the water surrounding the green: the hole is not long but it does not forgive an imperfect contact. If the stick is on the right, the difficulties increase, because there is more water to fly over.
Hole 9 "Dolores del Rio"
Not an easy par 5. the players with a long drive will not have problems to pass the canal that crosses the hole (the longest could try to reach the green with the second shot). Beware of the lake on the left. The green that descends to the bottom of the field, is quite difficult because of the slope to be read carefully.